Micro-Perforated Aluminum Sliding Folding Shutters

PRODUCT DESCRIPTION

The manual micro-perforated aluminum sliding folding shutters are are ideal when there is not enough headroom for a roller shutter, providing not just security, yet together with airflow and visibility.

APPLICATIONS:

Aluminum security side sliding folding shutters, manufactured by starking shutter manfuactuer limtied, are widely used for enclosed retails and public environments. For example: shopping malls, airport shops, superstores, counter top & bar, bank lobbies & ATM areas, kiosks railway stations, museums, schools, and public buildings. In fact, wherever people and space need to be separated by a simple, secure screen system.
KEY FEATURES:
Flexibility. Even a lady can open and close the door smoothly.
Low headroom required. Only 42mm headroom is needed for the top track and there are no floor tracks.
No floor tracks required.
Only manual operation. There is no need costly motor and you don't have to worry about power failure
Low maintenance. Without any scheduled maintenance or service requirements.
Security: With the strength of aluminum panels and joining tubes, together with the bolts fixed inside the floor, it's extremely secure.
Ventilation. Airflow is available due to the micro-perforated holes on the aluminum panels.
Visitiblity: The closure offer some visibility due to the micro-perforated holes on the aluminum panels.
PROJECT PHOTO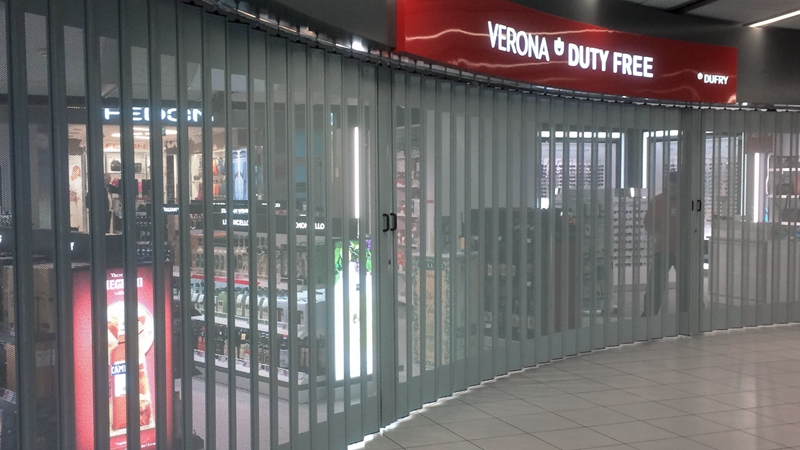 TECHNICAL SPECIFICATIONS

The curtain is constructed of (160mm, 200mm, 250mm, 275mm) wide panel linked together by a continuous aluminum hinge.
These hinges hold aluminum perforated panels with (3 mm) diameter holes providing a 50% visibility and ventilation through the panels.
Locking system:
cylinder lock will be fixed on lock post, could be open/close from both inside and outside.
Top tracks:
Curtain shall be hung from an top track, for straight opening, we uae aluminum track, for curved opening, we will use steel track.
Only 50mm headroom is needed for the top track and there are no floor tracks. There are no removable mullions or posts to contend with because all the lock members and other components are integral.
Pocket:
The panels will be folded into the stacking pocket area when the door is fully open.
90 degree pocket is available if needed.
The Sliding Shutter is available in 3 other designs; Solid, Poly-carbonate and Grilles type.
Call or E-mail us to know more about our manual perforated aluminum sliding folding shutters and request a FREE quote.