General Descriptions:
What if your shop layout is curved, don't worry, we can offer solution.

Our Transparent Polycarbonate Side Folding Closures & Grilles are designed and widely used for shopfronts and storefronts. No matter it's straight opening or curved opening, we can make our doors to be perfectly matched.

Applications
►shopfronts
►storefronts
►showrooms
►partition areas
►shopping center/ shopping mall
►airport
►and more

Key features
►low/no headroom required & No floor track required
►easy to install
►low maintenance
►made-to-measure, no matter it's straight opening or curved opening.
►up to 45 meters width
►High Security
►Excellent visibility

Project photos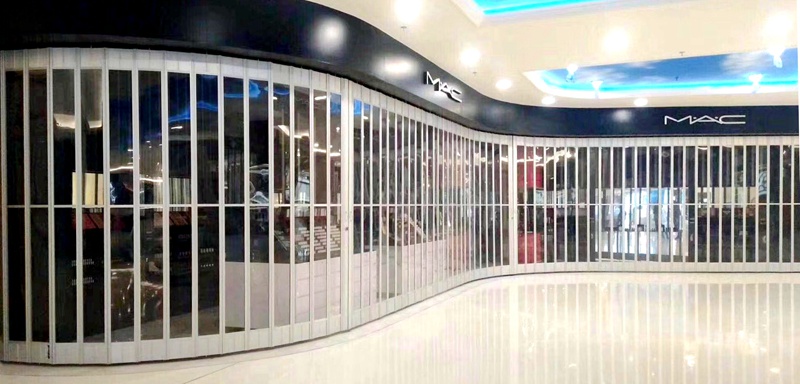 Product Drawing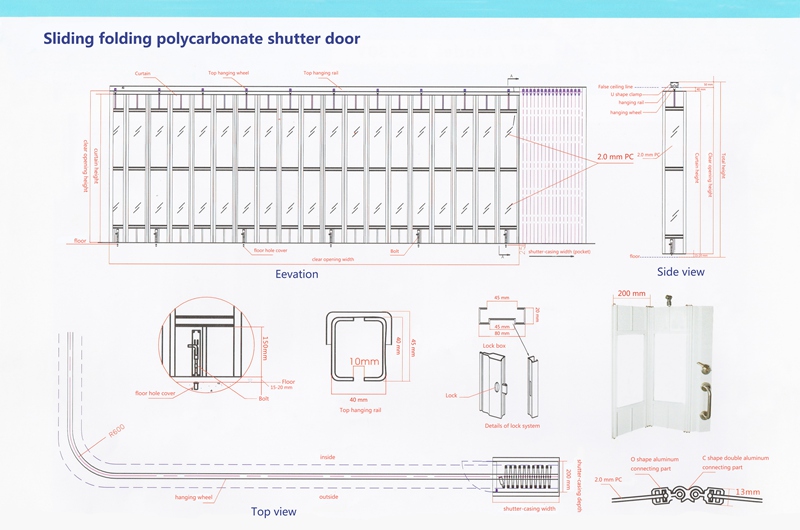 TECHNICAL SPECIFICATIONS

OPERATION
Manually operated ONLY, the doors can be either single or bi-parting in operation, stacking to one side or two sides as required depending on side room clearances.
DOOR PANEL OPTIONS
Polycarbonate: 2.5/3mm thickness polycarbonate panels provide remarkable impact-resistance reinforced with aluminum fixing profiles.
OPERATING SYSTEM
Our overhead track system is made of 40*40 mm aluminum extrusion profile. Single and double trolley rollers fitted with ball bearings are used and glide in an overhead track. The fitted tracks may have a radius of no less than 600mm to suit curved applications.
MAXIMUM SIZES
Our Folding Closures can be manufactured to a maximum height of 4,500mm and can span 35,000mm width opening.
LOCKING
The leading posts will be provided with a lock and 2 key cylinders which can be operated from both sides. Floor mounted sockets with dust caps are included.
FINISH
Our standard finish is matt natural anodized aluminum.
Powder coating to ANY stand RAL color is available additional cost
NOTE: Some special finishes may extend delivery time.
STACKING POCKET SIZES
normally the pocket width will be around 10% of the total width, kindly contact us for a specific width according to the panel and opening design.

Get in touch with us to know more our products and get a free quote.