Micro-perforated aluminum rolling shutters | rolling shutter manufacturer | Model SA80-4
PRODUCT DESCRIPTION
A micro-perforated or a punched aluminum rolling shutter doors are popular for retail units, where they offer enhanced security without detracting from the look of the front.
APPLICATIONS:
Every aluminum roller shutter door is built to your required sizes and dimensions,this type of door is designed and widely used for industrial, commercial, residential applications as following:
♦ Reception counters
♦ commercial shop fronts
♦ garage
♦ Domestic properties
♦ and more
KEY FEATURES:
♦ Rust-proof. Aluminum roller shutter door is made of aluminum, which makes the door never rust.
♦ Noiseless. The noise level is around GB/TI6730,Rw=20dB.
♦ Lightweight. Compared to galvanized steel rolling shutter, it's lightweight, so it's easy for transportation as well as installation.
♦ Ventilation available. The aluminum slats are perforated to offer ventilation.
♦ Many color available. The natural color, white, blue, green, cream, or any other RAL color by powder coating
♦ Easy to install
Project photo: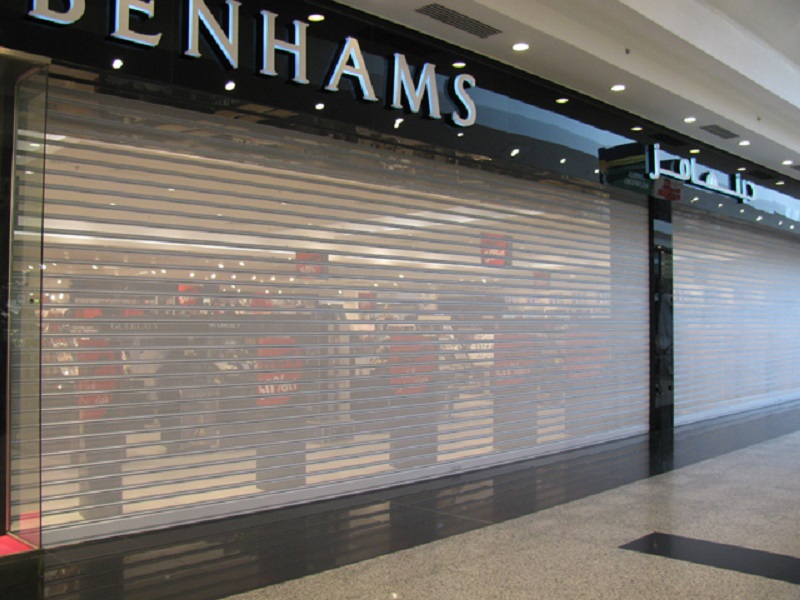 TECHNICAL SPECIFICATIONS
| | | | | | |
| --- | --- | --- | --- | --- | --- |
| Item number | Max width | Max height | Color | Operation way | Options |
| SA8-3 | 7,200 mm | 7,200 mm | any RAL color by powder coating | manual operation, motorized operation | shutter box, safety sensor, UPS, safety brake, video surveillance |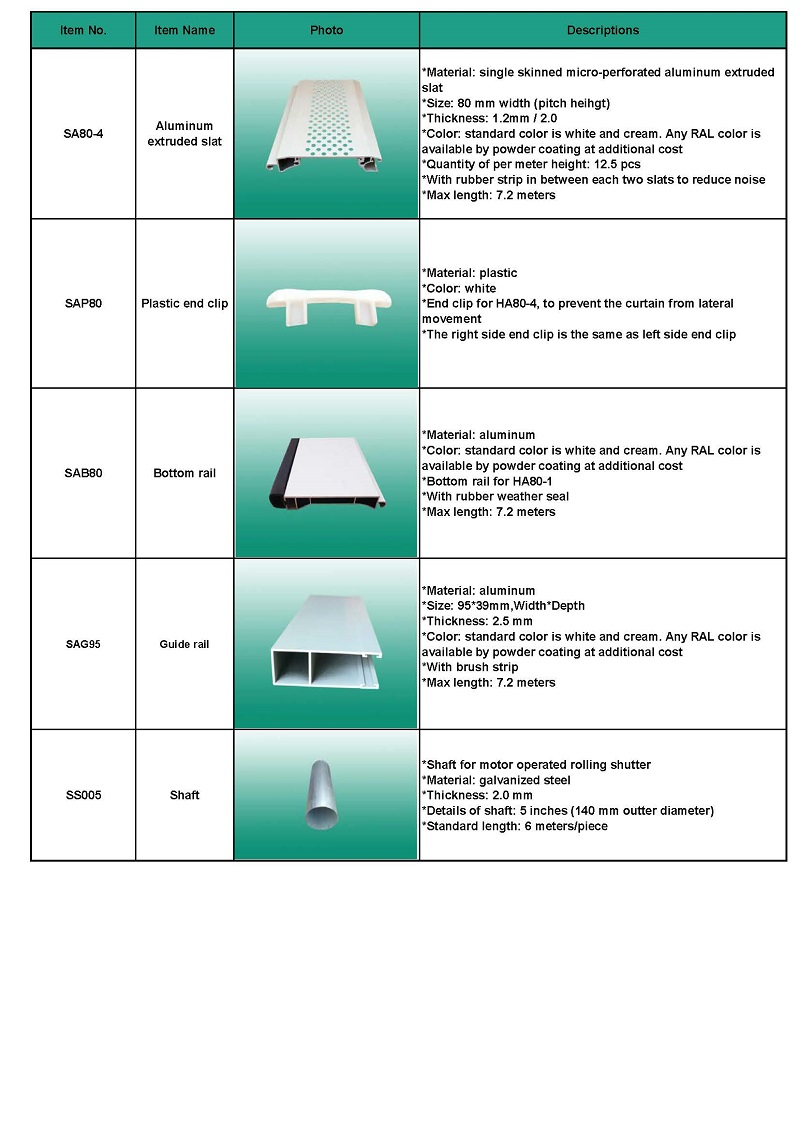 Curtain:
♦single skinned aluminum extruded slat
♦Size: 80 mm width (pitch heihgt)
♦Thickness: 1.2mm / 1.0 mm
♦Color: standard color is white and cream. Any RAL color is available by powder coating at additional cost
Bottom rail:
♦Material: aluminum
♦With rubber weather seal
♦Max length: 7.2 meters
Guide rail:
♦Size: 95*39mm,Width*Depth
♦Thickness: 2.5 mm
♦With brush strip
♦Max length: 7.2 meters
Shaft / Axle:
♦Material: galvanized steel
♦Diameter:5 inches(side motor), 6 inches, 8 inches, 10 inches
♦Wall thickness: 1.5 mm, 2 mm, 2.5 mm, 3 mm, 4 mm
Operation way:
♦Manual operation by hand or hook (push up & push down)
♦Automatic operation with motor(remote controls, switch button)
Optional:
♦Shutter box / hood cover
♦Wicket door
Call now on 0086-20-39010223 to get a free quote or email your basic requirements to
sales@starkingshutter.com and we willgo back to you asap.