Aluminum rolling shutters | rolling shutter manufacturer | Model SA80
PRODUCT DESCRIPTION
Max size 7.2meter *7.0 meter available. Aluminum roller shutter door SA80 is our main product in the market which meet most of the requirement of our clients.
APPLICATIONS:
Consisted of interlockig aluminum alloy slats, with plastic end clips on both sides of curtain to prevent lateral movement, our aluminum roller shutter door is designed and widely used for commercial, residential applications as following:
♦ home use
♦ commercial shop fronts
♦ garage
♦ warehouse
♦ etc.
KEY FEATURES:
♦Long service life. Aluminum roller shutter door is made of aluminum alloy slats, which makes the roller shutter door rust proof, anti-corrosion, and long life service.
♦Noiseless. The noise level is around GB/TI6730,Rw=20dB only, because we put special long service life rubber tape in between the aluminum roller shutter door slats for noise reduction. In the mean time, rubber tape could make the door runs more smoothly.
♦Lightweight. Aluminum roller shutter doors are only 40% weight compared to same size galvanized steel rolling shutter doors.It is easier for transportation as well as installation.
♦Nice appearance. The aluminum roller shutter door could be powder coatet to any standard RAL color to meet your design requirement to match the surroundings.
Security / burglarproof. Our aluminum roller shutter door slats are made of 6063 aluminum ingot to ensure the door in high impact grade and durable.
Project photo:
TECHNICAL SPECIFICATIONS
| | | | | | |
| --- | --- | --- | --- | --- | --- |
| Item number | Max width | Max height | Color | Operation way | Options |
| SA65 | 7,200 mm | 7,000 mm | any RAL color by powder coating | manual operation, motorized operation | shutter box, safety sensor, UPS, safety brake, video surveillance |
Curtain:
The rolling shutter curtain itself consists of Consisted of solid interlockig double layer Aluminum slats, with plastic
end clips on both sides of curtain to prevent lateral movement.
Thickness option: 1 mm,1.2mm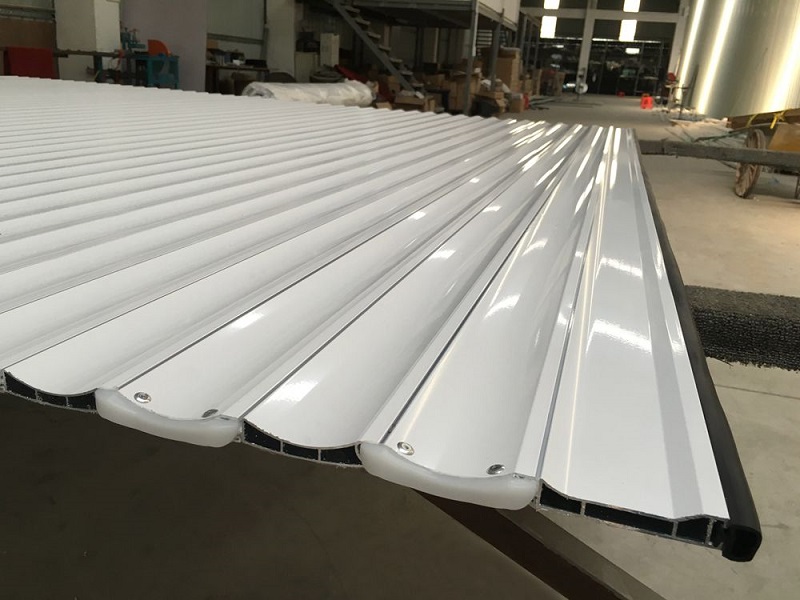 Bottom rail:
♦Material: Aluminum alloy
♦With plastic end caps on both sides
♦Dimension:40*90mm, Depth*Height
Guide rail:
♦Material: Aluminum alloy
♦Dimension:70*36mm
♦Thickness available: 2.5mm
Shaft / Axle:
♦Material: galvanized steel
♦Diameter:5 inches(side motor), 6 inches, 8 inches, 10 inches
♦Wall thickness: 1.5 mm, 2 mm, 2.5 mm, 3 mm, 4 mm
Mullions:
Removable center mullions are available on requiest for applications were shutter opening
can not be covered by one shutter door.
Side plates / brackets
♦The brackets are manufactured from mild steel and supplied in premed finish
♦The brackets can only be installed on a structural fixing surface such as concete, steel columns, steel
angles are normally used to supported the brackets if needed
♦With plates slotted to accommodate shaft or motor mounting.
Operation way:
♦Manual operation by hand or hook (push up & push down)
♦Automatic operation with motor(remote controls, switch button)
Optional:
♦Shutter box / hood cover
♦Perforated slats, punched slats are available if needed
♦Wicket door
Call now on 0086-20-39010223 to discuss your options or email your basic requirements to
sales@starkingshutter.com and we will be at your service anytime.